The safety of the babies must be the most important thing to all parents. However, the toddlers, curious as they are, tend to explore everything in their eyes, which could lead them dangerous position and get them hurt seriously. So I just want to warn you about five safety hazards that probably exist in your house.
Baby Monitor Cords
A baby monitor with a camera is supposed to keep your infant safe, but ironically it could kill or hurt your little one sometimes. How? The cord. Babies in the crib are always curious about everything they could see. If something is within their reach, they will probably get it. Some parents like to place the wired camera unit of a video baby monitor too close to the baby to get a clear view of him. They don't know that they are running a huge risk. In 2011, three poor infants died from the strangulation in the baby monitor cord.
Swimming pools around
Children love to play in the pools, so do adults. I am a big fan of pools, either. It is so much fun! But can you imagine what if your mobile, curious young child falls into it? Does he have any chance to survive in the water to a depth of about 1.5 meters?  Always gate your in-ground swimming pool properly, or lock up the ladder of an above-ground pool.
In case your neighbors got swimming pools without any security measures, ask them to get one. The kids might play around there.
Kettles and other similar domestic appliances for heating purpose
There is no need to say how dangerous these heating appliances are! Every year, there are hundreds of thousands of kids getting burned by them. It already breaks my heart just to look at the pictures of those poor kids. Their life could be totally ruined by that. And I think their parents are unforgivable for being that careless.
But you can easily avoid any similar disasters by following some simple tips here. The most important thing is to keep the kids away from any kinds of heating appliances like a kettle or a coffee maker. Never put these devices at the edge of a table or them may fall on the kids. If you got a door for the kitchen, always lock it when you are away.
Steps inside the house
Do you know that there are more than 80 thousands of infants sent to the hospital each year in US, as a result of falling down the steps? These humble things are a big threat to the new walkers. You should get all the infant gates in front of the steps. Never go for pressure gates, because they are already dangerous. Gates with hardware-mounting capacity is  good options. Don't try to carry any other stuff while taking your baby up the stairs. It is risky, and many babies got hurt because of that.
The beds of yours
It is such a sweet thing to look after your little one on your bed, but not to share it with him while sleeping. Though many parents don't believe that as they really enjoy the intimacy and comfort of co-sleeping. You'd better not do that. Here is the reason. There used to be some cases in which babies died or injured from parents' mindless rolling on them during their sleep. Besides, babies might get into a dangerous position when sleeping with his parents under the quilt. For example, they might be covered by a blanket on the face and encounter a breathing issue which might cause them to die.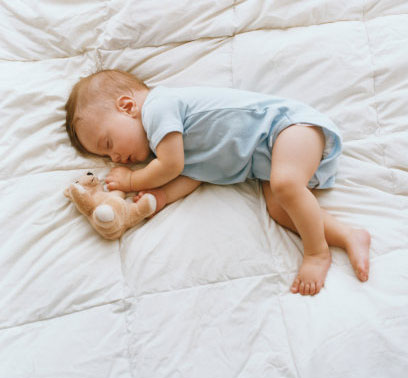 Otherwise, never ever to leave new toddlers alone in your bed while you are busy on some household stuff. They may roll and fall off the bed. Always put them in a safe crib in that case, together with a video baby monitor with a camera to supervise their activity.